The Housing White Paper 2017 – round three
13th February 2017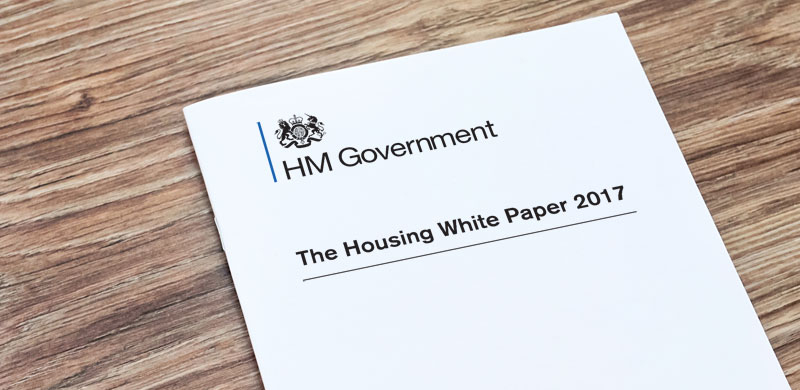 Part 3: Diversifying the market
Ding, ding… round 3 of 4!
So, what else are people saying about the Housing White Paper which was presented to Parliament on the 7th February 2017?
The good…
"The White Paper represents a sensible smoothing of the rough edges of the planning system."
Matthew Spry
Senior director and head of economics at planning consultancy Nathaniel Lichfield & Partners
The bad…
"Traditional methods of construction can no longer deliver the modern housing the UK needs. Our industry must radically transform."
Andrew Richards
Managing director of Laing O'Rourke's residential arm Explore Living
And the ugly…
"The modest proposals in the white paper will do little to address the housing crisis which has grown exponentially in the last few years."
Jeremy Beecham
Labour, House of Lords
How are the government proposing to diversify the housing market?
Here it is in a nutshell…
A – Backing small and medium-sized builders to grow, including through the Home Building Fund:
Not to introduce a requirement for local authorities to keep a small sites register at this time, following the consultation last year
Launched the £3 billion Home Building Fund
New Accelerated Construction programme will support us in diversifying the market through partnering with small and medium-sized rms and others as development partners and contractors
Publicise our Help to Buy equity loan scheme to small and medium-sized builders
Promote the National Custom and Self Build Association's portal for Right to Build, ensure the exemption from the Community Infrastructure Levy for self build remains
Support custom build through our Accelerated Construction programme
Work with lenders crease their lending in line with consumer demand. We are delighted that Virgin Money plans to start lending on custom build projects in the summer
B – Supporting custom-build homes with greater access to land and finance, giving more people more choice over the design of their home:
Change the National Planning Policy Framework so authorities know they should plan proactively for Build to Rent where there is a need, and to make it easier for Build to Rent developers to offer affordable private rental homes instead of other types of affordable housing
Ensure that family-friendly tenancies of three or more years are available
C – Bringing in new contractors through our Accelerated Construction programme that can build homes more quickly than traditional builders:
Set out, in due course, a rent policy for social housing landlords (housing associations
and local authority landlords) for the period beyond 2020 to help them to borrow against future income, and will undertake further discussions with the sector before doing so
D – Encouraging more institutional investors into housing, including for building more homes for private rent, and encouraging family friendly tenancies:
Put social housing regulation on a more independent footing
Housing associations belong in the private sector
Urge housing associations to explore every avenue for building more homes
Expect housing associations to make every effort to improve their efficiency, in order
to release additional resources for house- building
E – Supporting housing associations and local authorities to build more homes:
With local authorities to understand all the options for increasing the supply of affordable housing
explore scope for bespoke housing deals with authorities in high demand areas, which have a genuine ambition
The Homes and Communities Agency will be relaunched as Homes England
F – Boosting productivity and innovation by encouraging modern methods of construction in house building:
Stimulate the growth of this sector through our Accelerated Construction programme and the Home Builders' Fund.
Support a joint working group with lenders, valuers and the industry
Consider how the operation of the planning system is working for modern methods of construction (MMC) developments
Work with local areas
Alongside the Home Building Fund, consider the opportunities for offsite rms to access innovation and growth funding and support for them to grow
Affordable Housing Proposals:
Introduce a household income eligibility cap of £80,000 (£90,000 for London) on starter homes
Introduce a definition of affordable private rented housing
We intend to publish a revised definition of affordable housing
Make it clear in national planning policy that local authorities should seek to ensure that a minimum of 10% of all homes on individual sites are affordable home ownership products
Whether these or any other types of residential development should be exempt from this policy
What did the HBF have to say about the Housing White Paper?
The White Paper reflects the key role private house builders have in addressing the broken housing market. They believe measures in the White Paper to ensure Local Authorities abide by responsibilities to bring greater volumes of land for development forward more quickly and to assist SME builders, could tackle some of the biggest barriers to further increasing housing supply.
Stewart Baseley, executive chairman of the Home Builders Federation made the following key comments:
"The White Paper recognises that the private sector house building industry is key to addressing the chronic housing shortage we face and outlines steps to assist it deliver more homes. The industry is a major part of the solution and is committed to continued growth."
"Huge progress has been made in recent years in terms of increasing housing supply. If we are to build more homes and meet the country's acute needs, all parties involved in housing supply must up their game."
"The industry is determined to meet the challenges laid down by Government and help deliver more homes more quickly. We will look to work with Government on the detail of the measures announced today to ensure they will lead to many more new homes being built in the coming years."
"Plans to speed up the planning process, bring forward more developable land and make Local Authorities abide by their responsibilities are key. If we are to build more homes, we need more land coming through the system more quickly. Measures that will allow SME builders to build more homes will increase the capacity of the industry and result in increases in overall supply."
Read the full article here
What are your thoughts? Have your say…
The consultation will begin on 7th February 2017. The consultation will run for 12 weeks and will close on 2 May 2017. All responses should be received by no later than 23:45 on 2 May 2017.
This consultation is open to everyone. The government are keen to hear from a wide range of interested parties from across the public and private sectors, as well as from the general public.
During the consultation, if you have any enquiries, please contact: planningpolicyconsultation@communities.gsi.gov.uk
You may respond by completing an online survey here
Alternatively you can email your response to the questions in this consultation to: planningpolicyconsultation@communities.gsi.gov.uk
If you are responding in writing, please make it clear which questions you are responding to. Written responses should be sent to: Planning Policy Consultation Team Department for Communities and Local Government Third Floor, South East Fry Building 2 Marsham Street SW1P 4DF
When you reply it would be very useful if you confirm whether you are replying as an individual or submitting an official response on behalf of an organisation and include:
Your name
Your position (if applicable)
The name of organisation (if applicable)
An address (including post-code)
An email address
A contact telephone number
Question 31
Do you agree with our proposals to: 018)?
Amend national policy to revise the definition of affordable housing as set out in Box 4?
Introduce an income cap for starter homes?
Incorporate a definition of affordable private rent housing?
Allow for a transitional period that aligns with other proposals in the White Paper (April 2
Question 32
Do you agree that:
National planning policy should expect local planning authorities to seek a minimum of 10% of all homes on individual sites for affordable home ownership products?
That this policy should only apply to developments of over 10 units or 0.5ha?
Question 33
Should any particular types of residential development be excluded from this policy?
Further questions relating to parts 4 will be issued for your consideration so hold your response until you have reviewed all the questions. Use this opportunity to have your say.
Tomorrow we will return to Part: 4 of our review of the Housing White Paper 2017…
The fourth proposal – 'Helping people now'.
Read the full Housing White Paper 2017 here.
---
Share With Friends