Levelling Up
17th February 2022

by Jo Hanslip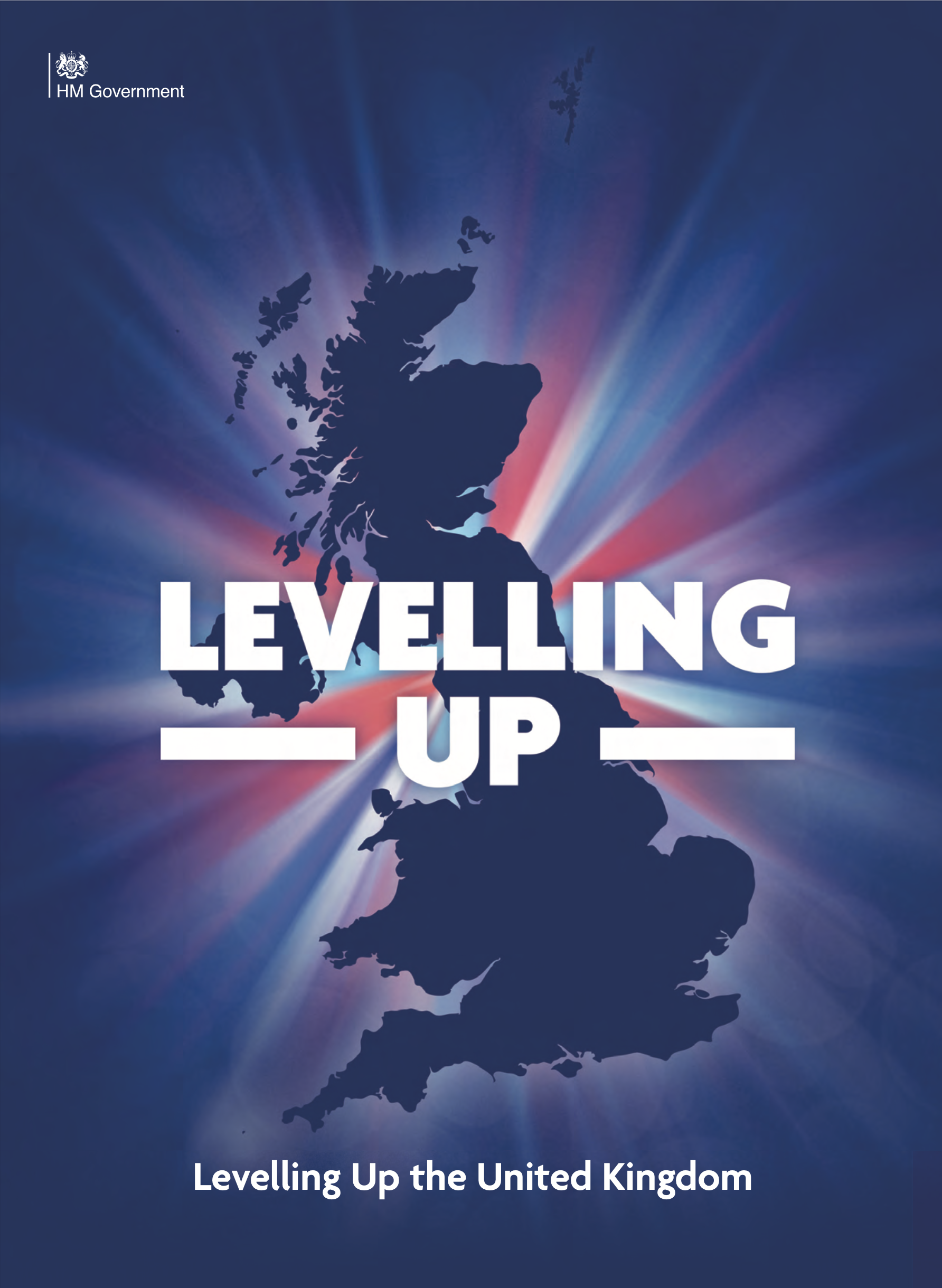 The Government published the Levelling Up White Paper on 2 February 2022, which set out to spread equality and reduce regional disparity within the UK regions. It builds upon funding announced in the 2021 Spending Review.
The White Paper states that Levelling up will require us to:
boost productivity, pay, jobs and living standards by growing the private sector, especially in those places where they are lagging;
spread opportunities and improve public services, especially in those places where they are weakest;
restore a sense of community, local pride and belonging, especially in those places where they have been lost; and
empower local leaders and communities, especially in those places lacking local agencies.
Several Policy programme aspirations are identified:
Boost productivity, pay, jobs and living standards by growing the private sector
By 2030, pay, employment and productivity will have risen in every area of the UK, with each containing a globally competitive city, and the gap between the top performing and other areas closing.
By 2030, domestic public investment in R&D outside the Greater South East will increase by at least 40%, and over the Spending Review period by at least one third. This additional Government funding will seek to leverage at least twice as much private sector investment over the long term to stimulate innovation and productivity growth.
By 2030, local public transport connectivity across the country will be significantly closer to the standards of London, with improved services, simpler fares, and integrated ticketing.
By 2030, the UK will have nationwide gigabit-capable broadband and 4G coverage, with 5G coverage for most of the population
Spread Opportunities and Improve Public Services
By 2030, the number of primary school children achieving the expected standard in reading, writing and maths will have significantly increased. In England, this will mean 90% of children will achieve the expected standard, and the percentage of children meeting the expected standard in the worst performing areas will have increased by over a third.
By 2030, the number of people successfully completing high-quality skills training will have significantly increased in every area of the UK. In England, this will lead to 200,000 more people successfully completing high-quality skills training annually, driven by 80,000 more people completing courses in the lowest skilled areas.
By 2030, the gap in Healthy Life Expectancy (HLE) between local areas where it is highest and lowest will have narrowed, and by 2035 HLE will rise by five years.
Restore a Sense of Community, Local Pride and Belonging
By 2030, pride in place, such as people's satisfaction with their town centre and engagement in local culture and community, will have risen in every area of the UK, with the gap between top performing and other areas closing.
By 2030, renters will have a secure path to ownership with the number of first-time buyers increasing in all areas; and the government's ambition is for the number of non-decent rented homes to have fallen by 50%, with the biggest improvements in the lowest performing areas. This includes changes to the planning system to achieve quality.
By 2030, homicide, serious violence and neighbourhood crime will have fallen, focused on the worst-affected areas.
Empower Local Leaders and Communities
1. By 2030, every part of England that wants one will have a devolution deal with powers at or approaching the highest level of devolution and a simplified, long-term funding settlement.
Next Steps in progressing the 11 aims of the Paper include:
Engagement and Informal Consultation
Setting and delivering missions and metrics
Devolution framework in England
New body focusing on local Government data
Taking a partnership approach
Fund simplification
Setting up of several sub committees including:
Regional adoption and diffusion infrastructure – improving the uptake of productivity-enhancing technologies and management practises by businesses;
The role of private sector capital – in levelling up and strategies for encouraging more institutional investment; and
Local communities and social infrastructure – the role of neighbourhood policies and strategies for building community capacity in left behind areas.
Future Legislation
Introducing an obligation for the UK Government to publish an annual report on delivery against the levelling up missions; and
Strengthening devolution legislation in England to expand devolution to more places, deepen current devolution deals and enable the devolution process to be simpler and more transparent
Planning reforms
The White Paper objectives are to be achieved through financial initiatives including:
£5bn for Project Gigabit to bring gigabit-capable broadband to 85% of the UK by 2025, and the £1bn Shared Rural Network deal with mobile operators delivering 4G coverage to 95% of the UK by the end of 2025
Five-year consolidated transport settlements amounting to £5.7bn in eight city regions outside London, £5bn of funding for buses and active travel over this Parliament; and £96bn for the Integrated Rail Plan delivering faster, more frequent and more reliable journeys across the North of England and the Midlands
A new schools funding formula in England ending the previous postcode lottery, and an extra £4bn for schools in England next year, rising to £4.7bn in 2024-25
Investment of £3.8bn in skills planned by 2024-25 and a Lifetime Skills Guarantee in England, enabling 11m adults to gain an A Level or equivalent qualification for free, as well as a new UK-wide adult numeracy programme and skills bootcamps
£23.3bn extra for the NHS in England over the 2021 Spending Review (SR21) period, a commitment to build 40 new hospitals by 2030 and an ambition to deliver 50,000 more nurses
A lower Universal Credit taper rate – down from 63% to 55% – and a higher National Living Wage, making work pay for millions of people, and letting them keep more of what they earn
20,000 more police officers on our streets by 2023 and a £70m Safer Streets Fund to improve the environment and cut offending in high-crime areas
Control of our immigration system by ending free movement and introducing a new points-based immigration system, giving the UK the freedom to decide who comes to our country based on the skills people have to offer
£1.49bn in City and Growth Deals in every part of Scotland, £791m across Wales and £617m for deals covering the whole of Northern Ireland
Eight innovative Freeports bringing jobs, investment, and prosperity across England with a commitment to deliver more Freeports in each of Scotland, Wales and Northern Ireland
101 towns across England receiving £2.4bn from the Towns Fund to unleash their economic potential, and the £830m Future High Streets Fund regenerating 72 towns and high streets and helping them recover from the pandemic
A £2bn Culture Recovery Fund helping museums, theatres, cinemas, and heritage organisations survive the pandemic.
£4.8bn infrastructure investment in towns across the UK via the Levelling Up Fund
A £150m Community Ownership Fund, giving people across the UK the chance to become owners of their local pubs or football grounds
£26bn of public capital investment for the green industrial revolution and transition to Net Zero; and
The movement of UK Government functions and civil servants out of Whitehall, ensuring levelling up is not directed from London, creating local jobs and taking decision-making closer to the communities the Government serves, including HM Treasury to Darlington, the Cabinet Office to Glasgow, the Foreign, Commonwealth and Development Office (FCDO) to East Kilbride and the Department for Levelling Up, Housing and Communities (DLUHC) to Wolverhampton.
---
Share With Friends