Lagos to London – a Planner's memoirs
18th June 2017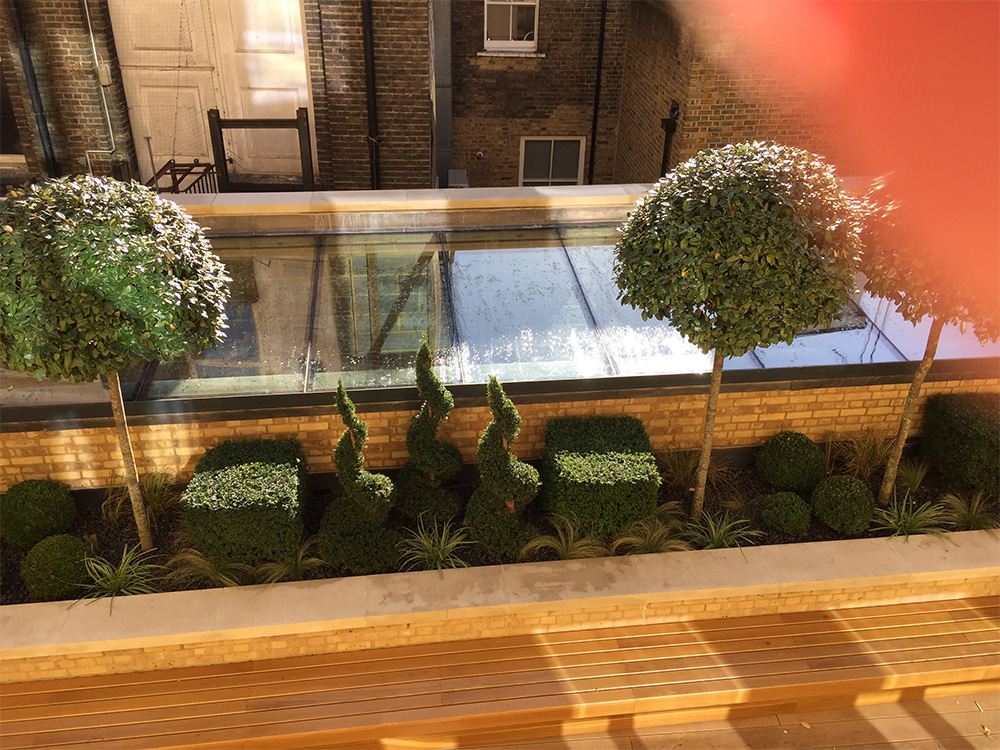 I recently travelled to Lagos, one of the federating states in south-west Nigeria. The experience gave me an opportunity to compare the planning challenges faced in Lagos as compared to London.
This is what I found as I journeyed into one of the fasted growing cities in the world…
It was a very interesting journey, some Lagosians are people doing what they need to do to survive in extreme circumstances and others have an entrepreneurial flair with a belief that God will provide.
"Lagos is not a kind of backward situation but an announcement of the future," the architect Rem Koolhass said. "What is now fascinating is how, with some level of self-organisation, there is a strange combination of extreme underdevelopment and development."
The nightlife in the bustling city of Lagos is quite a spectacle. From the enthusiastic food vendors on the streets selling various kinds of sumptuous delicacies such 'suya' – a spicy, garnished, barbecued shish kebab – to the various ubiquitous street pubs popularly referred to as Beer Parlours or the local gin stalls.
The turquoise beach of Takwa Bay, one of the remote islands off the coast of the main bustling island is breathtaking. It captures the beauty and mystery of nature, ocean waves cascade the shoreline leaving foamy bubbles that soak into the sand. Local fishermen cast their nets and retrieve exotic fish. Small boats to commercial ships come in and out of the harbour which opens up into the vast sparkling Atlantic Ocean.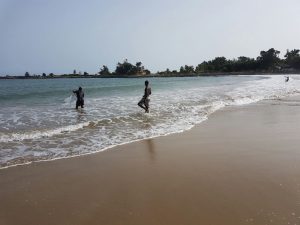 Fishermen at Takwa Bay
The multi-billion dollars land reclamation of what used to be Victoria Island Beach has been transformed into a development site known as the Eko Atlantic.
This is like a new town, growing and emerging from under the sea. The developing town has been designed to have residential skyscraper style flats, a business district, hotels and restaurants. There will be a selection of night clubs, casinos and private boat harbours. Some of the buildings have already been erected and can be overlooked from the bay. I can only imagine that the locals are fascinated as they observe daily changes on the horizon.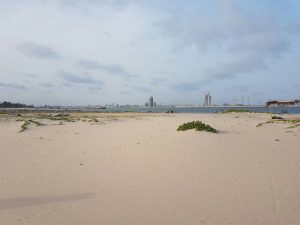 View of the Eko Atlantic from Takwa Bay
Nigeria
When the colony and protectorate of Nigeria were established in 1914, Lagos was declared its capital. It maintained this status until the 12th December 1991 when the capital was moved to Abuja. Nigeria is in West Africa neighbouring Benin Republic in the west, Chad and Niger in the north, Cameroon in the East and the Gulf of Guinea in the South. It is estimated that the population is over 20 million, dwarfing the entire population of its neighbouring countries.
Lagos is a megacity, with a very high population density. Tremendous urbanisation has taken place in Lagos since independence from Britain in 1960. To date, Lagos is still described as a laissez-faire urban society. Informal settlements constitute the biggest problem with urban planning in Lagos. The pre-independence and post-independence planning laws and programmes described have tried to equate Lagos with cities like London and New York, but poor planning policies and largely poor implementation of extant planning laws have been major setbacks.
Metropolitan Lagos is still the premier manufacturing city not only in Nigeria, but also at a regional scale, for west coast Africa. It is the most important seaport, with substantial import and export trade both nationally and internationally. Metropolitan Lagos is the most important mode for telecommunications and the most accessible city in Nigeria by land, air, and sea. It has thus attracted to itself the largest concentration of multinational corporations in Nigeria. It has become not only a West African regional centre but also a focus of international interaction at continental and to some extent at the world scale.
However, there is a great contrast between the local government areas populated with the rich and the middle class to those of the area inhabited by the working class. In many cases, however, there was complete disregard and a nonchalant disposition towards the environment. Open sewage can be easily seen in those poor areas, with a sea of plastic on canals path. This often leads to flooding when there is torrential rainfall.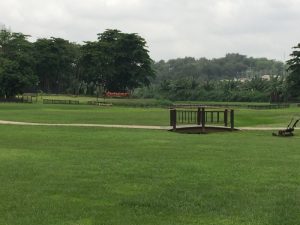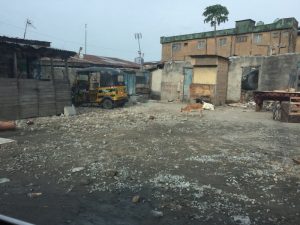 The stark contrast between rich and poor
The quest of the State government to transform the entire Lagos metropolis to be at par with globally renowned cities that have enviable track records in proper urban planning and physical development is made apparent in the State Government produced Strategic Master Plans for the whole of Lagos as envisioned in the Lagos State Development Plan (2012 – 2025). Eight out of the 12 new development plans proposed for the state, are operational. They include Lekki Comprehensive Master Plan, Badagry Master Plan, Ikoyi-Victoria Island Model City Plan, Ikeja Model City Plan, Apapa Model City Plan, Lagos Mainland Model City Plan, Alimosho Model City Plan and Agege Model City Plan. The other three, which include; Epe, Ikorodu and Oshodi-Isolo Master/Model City Plans, are at different stages of completion.
The social problems of traffic control, traffic discipline, and the observance of traffic laws and regulations constitute another major problem. There is generally a low standard of traffic discipline on the part of motorists. This is aggravated by the extremely low standard of traffic control at strategic four-way intersections. In addition, traffic safety measures are poor, especially with respect to cyclists and pedestrians, particularly school children.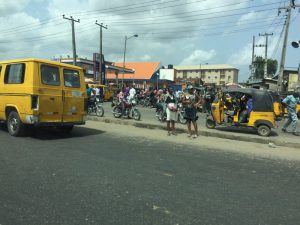 Traffic congestion
Road networks were laid out in specific areas as they became incorporated into the built-up area of the city. There is about 2,700 km of road, about 40 percent of which are tarred, and three main bridges linking Lagos Island and the mainland. However, inadequate land was generally reserved for road networks, with the result that some houses cannot be reached by motorable roads. In many cases, the provision of parking spaces for motor vehicles was virtually ignored.
The lack of coordination between federal, state, and local council networks results in the existence of sharp breaks in road quality and maintenance standard. Similarly, the failure of the Lagos State Development and Property Corporation to integrate development of government layouts with those of private developers has produced an ineffective integration of road networks within the metropolis.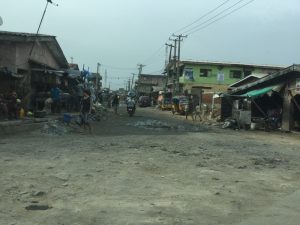 Dilapidated road
The inherent physical characteristics of many areas, especially the swampy terrain, constitute a second important challenge for efficient transportation networks. This involves technical problems in providing efficient drainage networks and in building roads of a high standard. This problem can be surmounted, provided the necessary financial resources are available and contracts for the construction works are awarded on merit to capable and experienced civil engineering firms. An integrated network of underground drainage channels, though costly for the whole of the metropolitan road network, would eliminate the perennial problem of street flooding during the rainy season in the metropolis.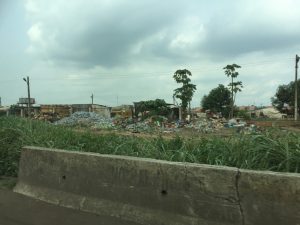 Open drainage
Sustainable planning of Lagos can be achieved if planning laws are frequently reviewed to meet contemporary challenges. However, poor implementation of planning regulations is one of the most contemporary challenges confronting Lagos. Another obstacle to sustainable planning is the need to review obsolete laws that are militating against development in the state.
We'll follow with some more details of planning issues and challenges in other internationally planning processes. The contrast of opulence and poverty is stark…..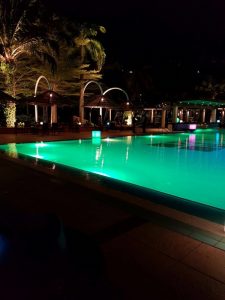 A Lagos pool by night
Contact us if you have any questions about planning, we'd be happy to talk.
---
Share With Friends