From London to Brazil
30th August 2017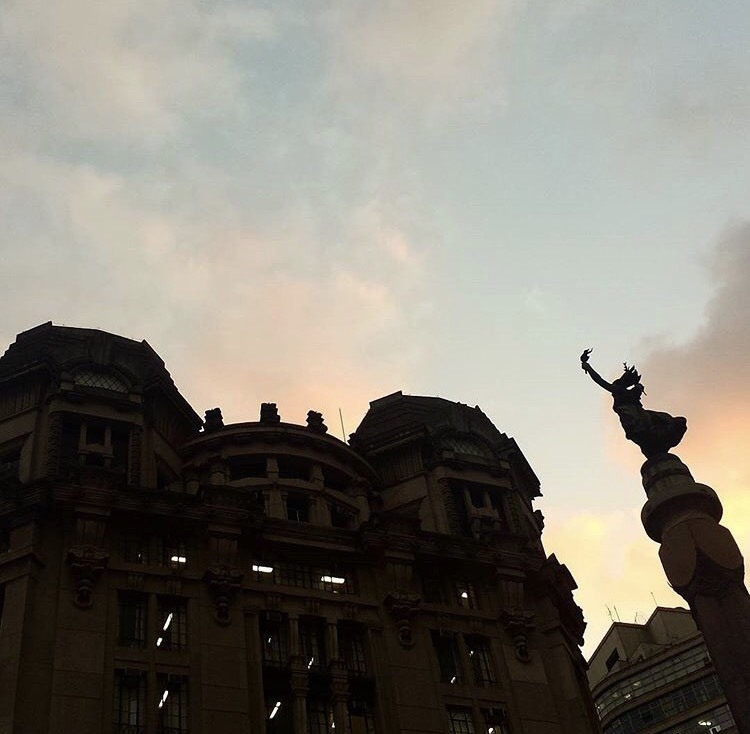 Brazil … where the city meets the sea.
A country that is famous for its natural beauty, carnivals, beaches and rainforests. It is the largest country in South America with 4655 miles of coastline. Brazil boasts seaside splendour, vibrant culture and a wide range of tropical and subtropical landscapes.
Urbanissta's Legal Beagle, Farhana Hussain has journeyed through parts of Brazil. Visiting places such as Recife – situated in an impressive coastal setting with an intriguing historic centre. Followed by Sao Paolo – an urban area full of high rises, crowded commercial spaces and thundering traffic.
Read on to find out more about Farhana's journey in association with the University of Westminster.
It's all about the experience. It's an education, an observation of the governance, inefficiency, opportunities, developments and constraints.
Brazil … a place where serious planning and strategies are needed.
Fahrana was accompanied by others who were organized into multidisciplinary groups boasting knowledge from architecture, planning, governance, urban design and law.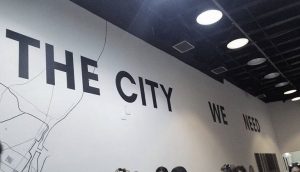 Farhana's notes…
16th May – 3rd June 2017
It's been roughly one month since I returned back from a 2 week trip to Brazil – where the sun shines on the wealth, the poverty and the potential.
It was an experience that I will never forget, organised by the University of Westminster. My colleagues and I worked with INCITI and proposed a master plan to the NGO with our vision in transforming Recife into a sustainable City. Going beyond the boundaries of science and business to include human development, values and different culture.
We travelled to Recife, Olinda and Sao Paulo with our sketch books in hand and explored the culture, food and architecture to get an insight on the challenges and opportunities faced by the coastal city.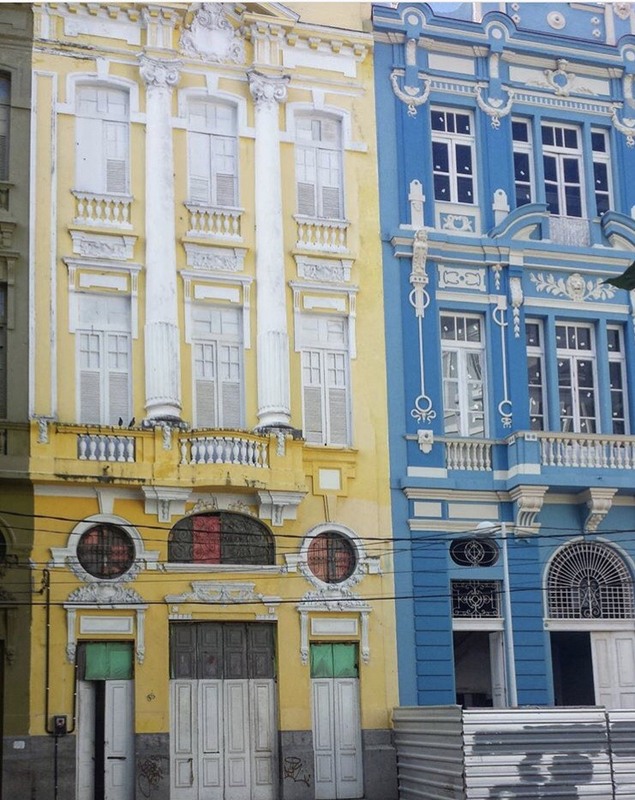 Recife
Recife, a beautiful coastal city sits between two rivers, Beberibe and Capibaribe. We stayed in a hotel by the coast with a view of the city from a distance. Upon arrival, I wondered why Recife looked like it was stuck in the past, lagging behind its sister cities, Sao Paulo and Rio who were well advanced, cosmopolitan and vibrant. But somehow, Recife had an undeniable charm which I had not seen in any other city – it embraced and worked with this quirk.
I came to learn that the same charming city has a slightly darker history which has contributed to its character and eerily quiet streets. The historic city is characterised by listed buildings protected by the Protection of the Historic Heritage (DPH), most of which are vacant due to the high costs involved in maintaining and renovating them. Unfortunately, there are no policies imposing taxes on vacant buildings or offering incentives to rent out the properties which in effect leave them neglected. Further research showed that these million dollar buildings are owned by politicians – the same people who create the laws and policies.
It became evident as to why the middle/lower class were being priced out. Strangely enough – there isn't a housing crisis in Recife, there appears to be a political battle and a desperate need for policy reform and governmental restructure.
History
Recife Antigo consists of the initial Portuguese settlement in the 16th century around the port. Sugar cane production from Pernambuco was delivered to Portugal through Recife's port. While Recife had port functions, Olinda was the capital. In 1630, the Dutch invaded Pernambuco, set Olinda partially on fire and Recife became the seat of the Dutch government. Count John Maurice of Nassau-Siegen became Governor General of the Dutch colony and built a new town on a neighbouring island. This city was named Mauritsstadt and the Palacio do Campo das Princesas, seat of the State of Pernambuco government, is built on its ruins.
The Dutch were forced out in 1654 of a Recife with good infrastructure, for they had built canals and improved the port and the defences of it. A flourishing Jewish community lived in Recife under them and they had to leave it because of the Portuguese Inquisition. Thus, a group of 24 Portuguese Jews who had previously migrated from Portugal to the Netherlands because of antisemitism, headed further North with the Dutch, where New Amsterdam –present-day Manhattan– was founded. The first Synagogue built in the Americas, the Kahal Zur Israel Synagogue, is located in Recife Antigo, on Rua do Bom Jesus, formerly Rua dos Judeus, or Street of the Jews. The Portuguese synagogue was founded in lower Manhattan and it is located on Central Park West in Manhattan nowadays under the name Portuguese & Spanish synagogue.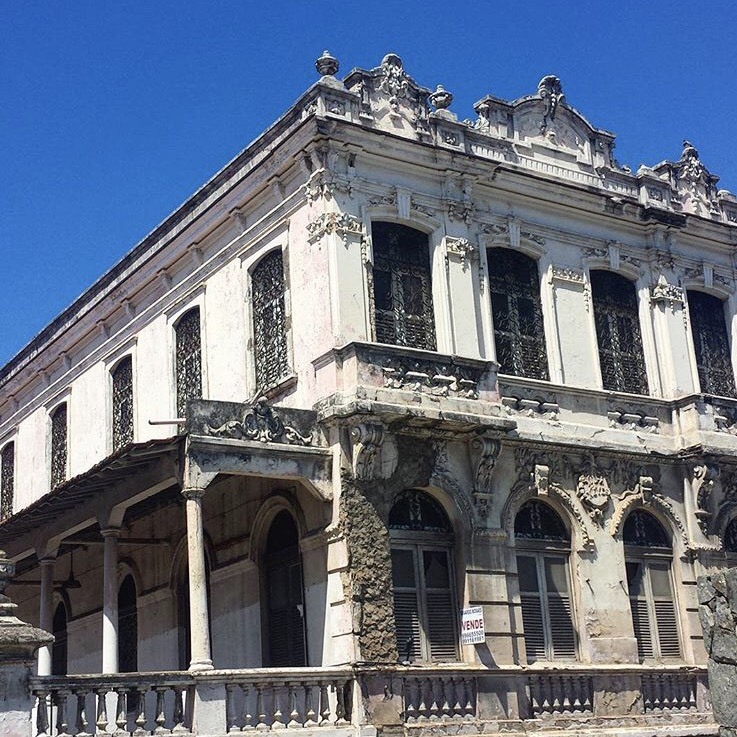 Week 1 – Week one involved exploring Recife. We walked around the bustling markets – unlike the markets found in London, the market in Recife was unregulated and organic which offered a great spot for the locals to get together and socialise. I immediately noticed the divide in rich and poor after witnessing high levels homelessness.
The history of Old Recife shows that the invasion of the Dutch in 1630 –is when Recife developed its first urban plan. This explained the Dutch influenced architecture. Unlike the UK, who places great importance on preserving the character of a designated area – Recife was characterised by old 18th century buildings adjacent to modern buildings. The juxtaposition added character.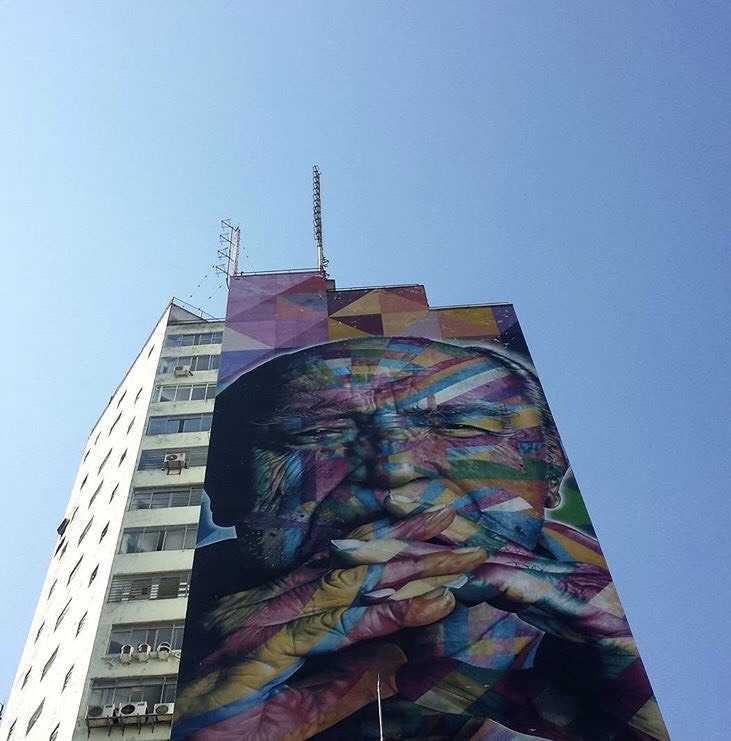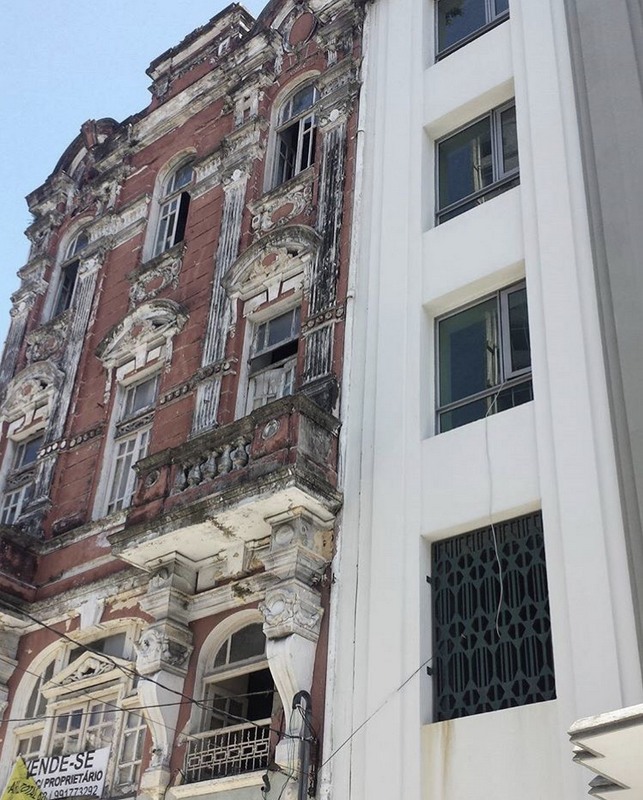 Having explored old Recife and carried out some research, we came across three areas of concern:
Governance
Movement
Social (and economic)
Week 2 –The second week revolved around preparing the presentation for INCITI. We were organized into multidisciplinary groups boasting knowledge from architecture, planning, governance, urban design and law. It was interesting to share knowledge and plug in gaps using knowledge from others. I was allocated a role in governance. My role included researching the governance system in Recife. The following were identified:
Governance:
Legal instruments – IPHAN Institute of National Historical and Artistic Heritage is a federal institution created in 1937
Monitoring and control system-completely absent from planning activities from municipalities
Community articipatory system restricted- developer dominant – institutional structures don't change due to politicians not willing to give up their positions
NGOs and academics usually the only ones to react to directives imposed in respect of the built environment
Built environment – conservation area – most of the historic buildings along the water front are privately owned – these are large assets worth millions of dollars (expensive rent and maintenance)
The following key stakeholders and their roles were identified: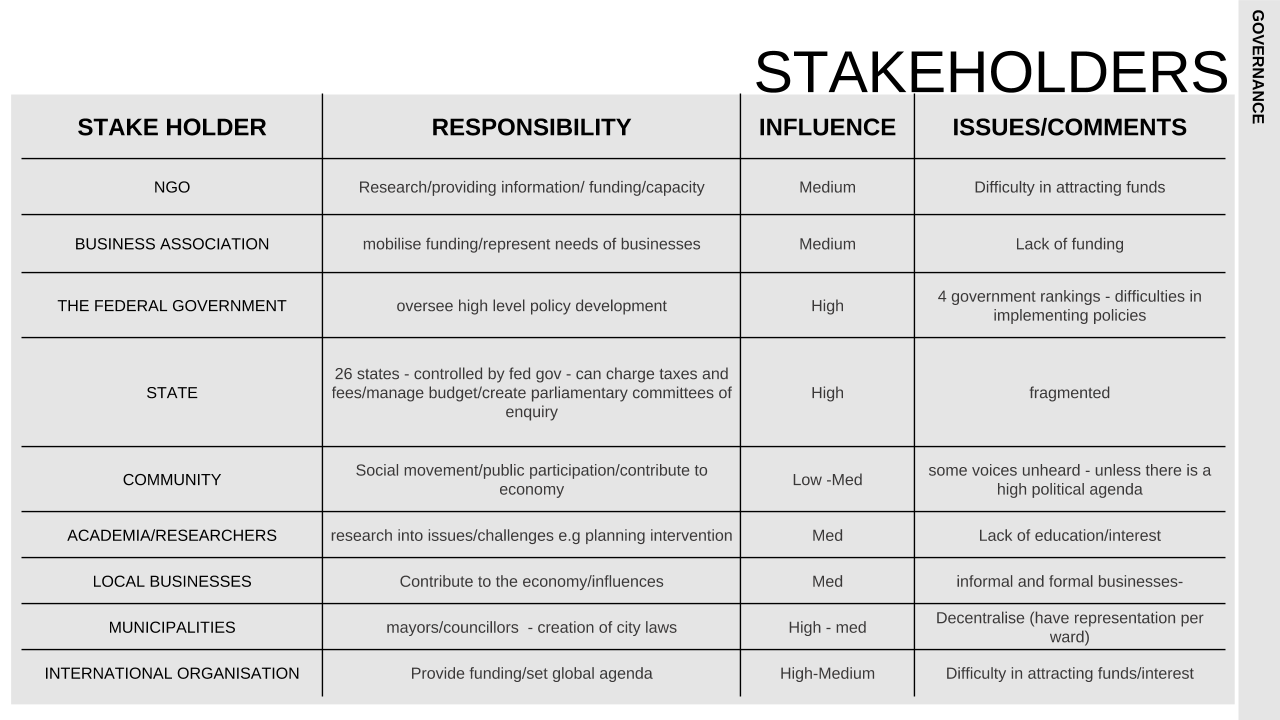 In order to tackle the issues found, the following were proposed:
Set up inter-governmental forum
Monitoring and evaluation system (early warning system – pilot projects)
Community based strategy (activation)
Improve accountability transparency
Ensure transparency and equal distribution of rights and privileges
A greater number of potential competitors lead to a greater possibility that the economic conditions stemming from competition are more advantageous to users.
Capacity building – education
Penalty system for tax dodgers
Revenue collections
Community and trust – housing benefits
Reforming of conservation policies
We came to the conclusion that the above could be achieved using the following strategy:
Pilot project
Public/private partnership
Participatory budgeting / compulsory purchasing
Community consultation prior to implementation
Devolution of powers
The second area of concern surrounded movement.
Transport and Movement:
The following observations were noted during our stay:

The following opportunities and constraints were identified:
Opportunities:
Promote tourism in the area
Increase permeability to Estelita
Better integration between metro, BRT, buses, bicycles and water bus
More bicycles hubs and cycle paths
Use the water ways
Produce a bus map for tourists
Separate lanes for bus, bicycles and cars
Fix the drains and pavements
Develop a pedestrian area around the market
Constraints: Main avenue divides east and west
Poor access to waterfront at Estelita
Concentration of buses in the north
Lack of dedicated cycle paths
High cost of public transport with poor connections
BRT operates only in the north of the island
Historic urban fabric
Having identified the opportunities and constraints, the following suggestions were made:
Maintain and improve the existing infrastructure
Fix the drains
Repair the pavements and roads
Dedicated cycle path along waterfront
Move the existing BRT station, connect to the metro, extend to Estelita
Water bus and terminal
Rehabilitate the tram for tourists
Make Estelita permeable
Remove the market from Danta Barreto and create a green boulevard
Adjust ticket pricing to allow changing mode of transport

Opportunities:
It has architectural assets
Social interactions
Big space for movement
It has well established grid
River can be utilised
Lively street activities (street vendors)
Constraints:
Underused public space
State of the road
Land use zoning
Priority have been given to cars
Lack of green open space
Poor maintenance old buildings
Lack of housing
Strategy – Public realm
Improve the pedestrian pathways (Shade, continuity, material, greeneries)
Maintenance of sewage systems
Improve the public spaces
Dedicated bicycle and bus lanes
Provide more street elements (bench, trash bin, etc.)
Tenure and building typology:
Shopkeepers mainly own their narrow frontage multi storey properties and live elsewhere
Upper floors underused as storage space
No vertical mixed use (see also regeneration of Recife Antigo)
Unable to afford upkeep of historic building fabric (Catholic church as well it seems)
Only Chinese traders live above their shop
Potential for comprehensive upgrading of paved areas/public realm
Plans: Plan for Novo Recife rejected by popular protest
Redesign to allow connection on the boulevard to Boa viagem.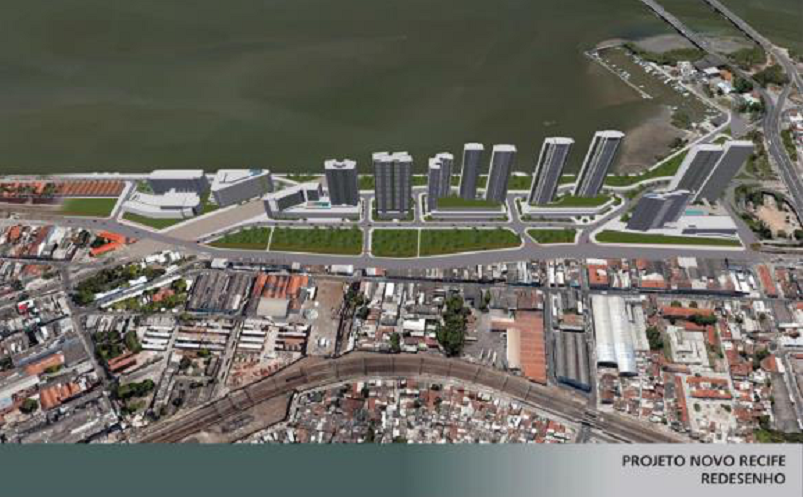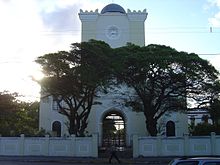 Malakoff Tower, in Recife Antigo
Recife Antigo (Old Recife) is the historical section of central Recife, Brazil. It is located on the Island of Recife, near the Recife harbor. This historic area has been recently recovered and now holds several clubs, bars and a high-tech center called Porto Digital.
Sao Paolo
The last 3 days were spent in Sao Paulo – a vibrant city compared to sleepy Recife. Despite the 36 degree weather and its metropolitan atmosphere – it seemed dark. I noticed numerous high rise buildings, of all shapes and sizes cramped together in the city center hub. They created visual interest but seemed to block out the sun which caused a shadow above the city. Despite this, the city was buzzing, unlike Recife. The streets were filled after midnight with office workers going out for after work drinks.
In a way, it reminded me of London.
My travels came to an end. I made many discoveries and I hope that the battle against corruption in the allocation of public sector engineering and infrastructure projects are successful.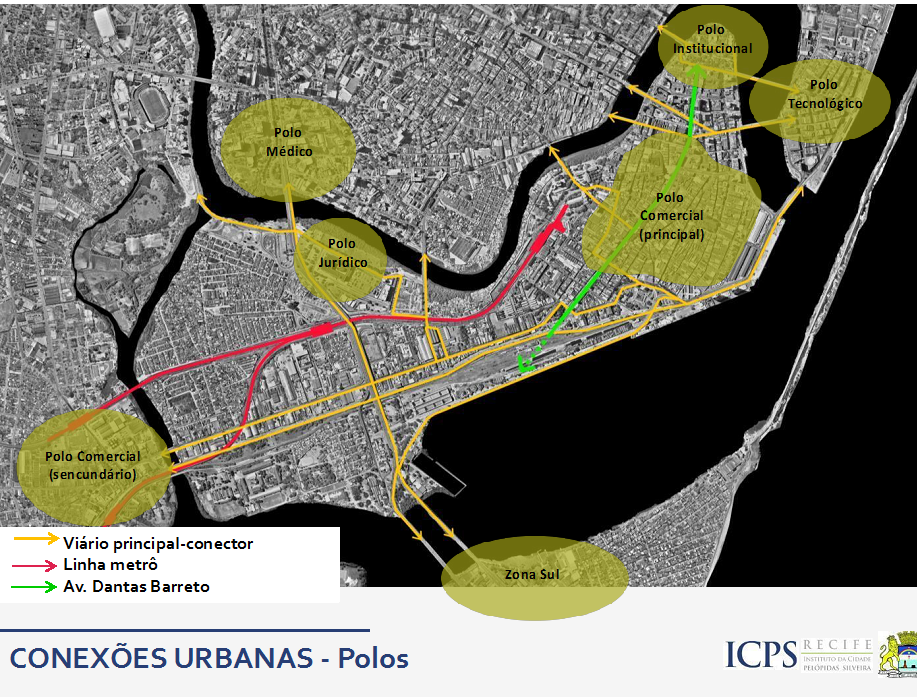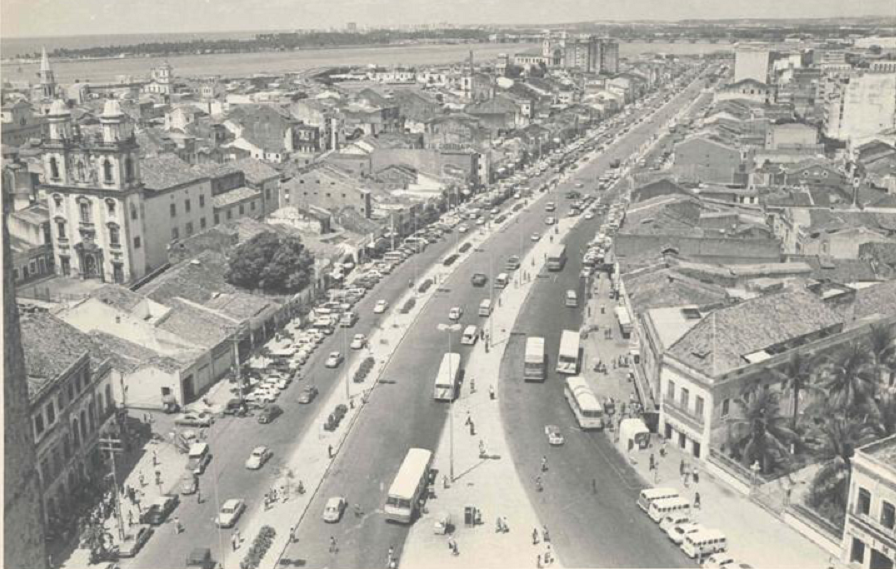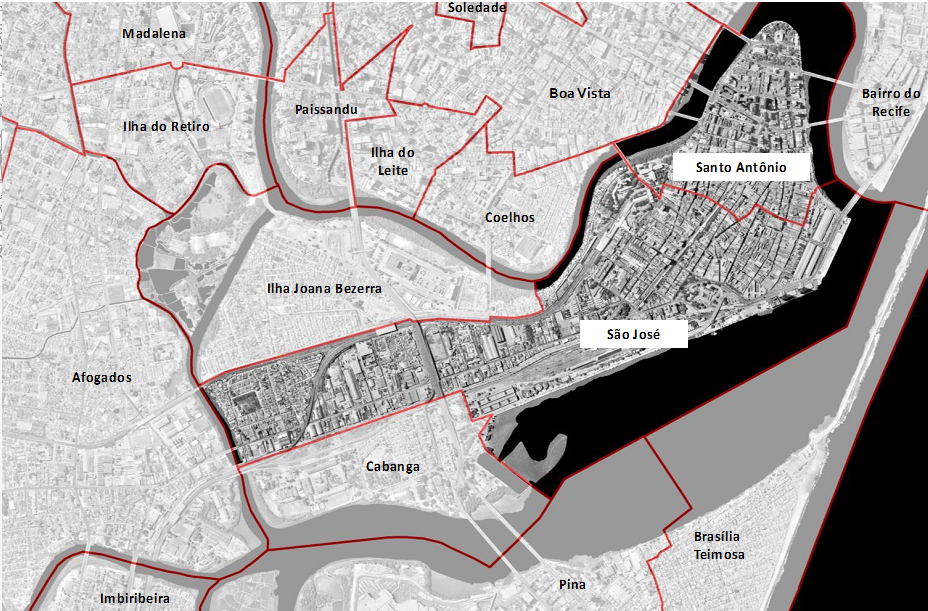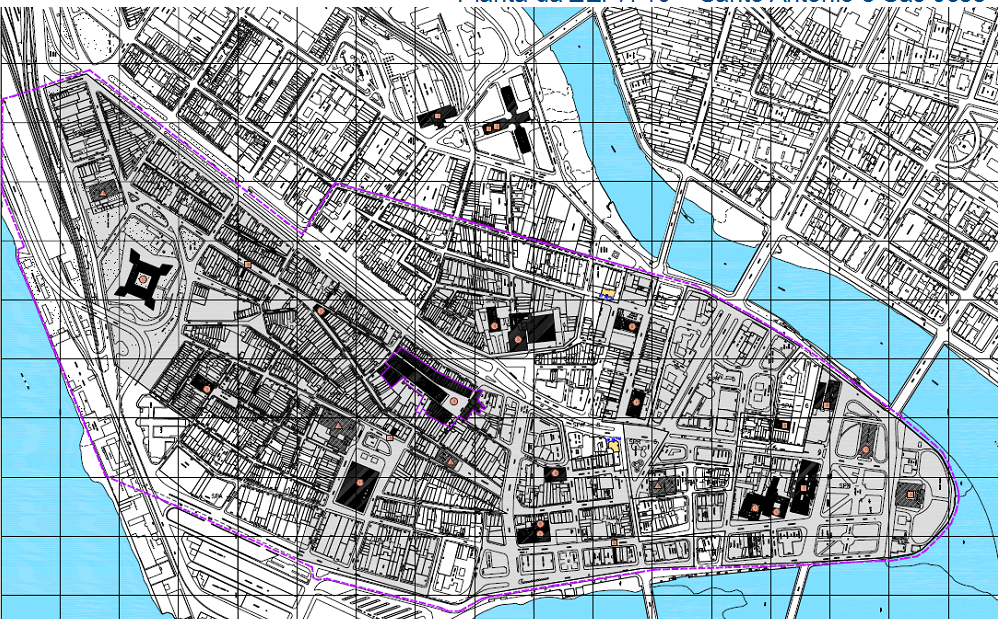 ---
Share With Friends