£2.3 billion investment in infrastructure for new housing in the UK
5th July 2017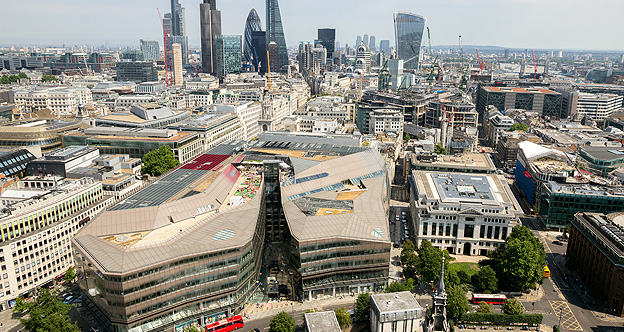 Things are looking up for housing!
A £2.3 billion fund which could unlock 100,000 new homes in areas of high demand was launched yesterday (4th July 2017) by the Communities Secretary, Sajid Javid. It was a welcome and positive move.
At the Birmingham LGA Conference, the Communities Secretary said that the investment will help to fund vital physical infrastructure projects. Life's necessities – the building of roads, bridges, energy networks and other utilities, the absence of which continues to delay housebuilding in the UK – preventing the government from fixing our broken housing market.
Communities Secretary, Sajid Javid, said:
"To build the homes this country needs, we need to deliver the right infrastructure in the right place at the right time. By investing in local infrastructure, we can help unlock building thousands of new homes in the areas where they are needed most.
The Housing Infrastructure Fund will also make sure we have better public services in place for local communities."
Furthermore, the Exchequer Secretary to the Treasury, Andrew Jones commented:
"Where we live plays a huge part in our lives; from the distance of our commute to the local facilities available. By ensuring we have enough housing in areas where it is needed the most, we can boost productivity and support new communities to grow and thrive.
This money is part of our £23 billion National Productivity and Investment Fund, which will ensure Britain is match fit for the future."
The much needed new investment through the Housing Infrastructure Fund (HIF) aims to solve this problem. It is opening for bids for local authorities across England to come forward with proposals to help get homes built faster, as from today!
Local authorities could begin building immediately once a proposal has been approved. The funding will be available from 2017-18 to 2020-21.
The fund was originally announced back in the Autumn Budget last year by Chancellor Phillip Hammond. Mr Hammond said that the money would be available for local authorities by 2020-21. The sooner the better.
Home Builders Federation Planning Director Andrew Whitaker said:
"Funding necessary infrastructure will give local authorities the opportunity to remove barriers to developments being delivered. Direct support for critical infrastructure will not only unlock more housing, it should also help to accelerate planned developments."

"Local authorities that plan for growth should be supported and that will, in turn, allow house builders to get on and deliver the homes our communities so desperately need. HIF is an important demonstration of the government's commitment to housing, following on from the housing white paper, which sets out a strategy to fix the nation's dysfunctional housing market."

"The fund will support councils to step up their plans for growth, release more land for housing and get attractive, well designed homes that people want to live in built at pace and scale."
More encouraging comments came from the LGA Chairman Lord Porter.
"We're pleased that the government has followed through on its commitment to invest in infrastructure linked to housing and that this to be led by councils, as we outlined on our preliminary Housing Commission findings last year."

"Going forward, what's crucial is that the arrangements to access this fund are flexible, especially around different housing tenures, and that all councils can access funds to deliver housing for their communities."

"Councils know their communities, and the places in them, best and so it's right that approaches to invest in local infrastructure are led by local authorities."
It looks like things are moving in the right direction at last.
Read more about…
Sajid Javid
Sajid Javid was appointed Secretary of State for Communities and Local Government on 14 July 2016. He was elected Conservative MP for Bromsgrove in 2010.
Andrew Jones
Andrew Jones was appointed Exchequer Secretary to HM Treasury on 15 June 2017.
He was Parliamentary Under Secretary of State at Department for Transport from May 2015 to 15 June 2017. Andrew was elected the Conservative MP for Harrogate and Knaresborough in May 2010.
House Building
What are the government doing about house building?
Homes & Communities Agency
Find out about funding programmes, regulations, land & development opportunities, design and sustainability, procurement panels and digital services.
Department for Communities and Local Government
The Department for Communities and Local Government's job is to create great places to live and work, and to give more power to local people to shape what happens in their area.
If you wish to discuss this topic or any other on our website, contact us today.
Do you know something that we don't know? We are always interested in hearing about planning, development, architecture and design. contact us if you stumble upon any fascinating changes to the London landscape.
---
Share With Friends